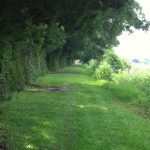 Each day is a new day and a new opportunity.  It is a choice to make the new day and / or new year a new start for yourself.
What do you want?  Ah – this is a key question early on in a coaching engagement and it makes sense.  During coaching certification when practicing as coaches, the participants of the coach training ask their clients what they want and then they ask what else.  Just as today is an opportunity for a new start coaching is an opportunity too.
Coaches use this process and individuals benefit:
Reflect on what is meaningful personally.
Remember great experiences and imagine ideal experiences.
Plan personal time.
Explore gigantic dreams and opportunities, then analyze and plan strategies.
The research shows that the Return on Investment for coaching averages 600%.  What is your return on investment for choosing your goals for the new year?