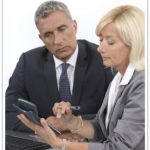 By Pete Liska https://www.linkedin.com/in/peteliska/
The ICF's Code of Ethics goes through all aspects of the coaching professions, coaching sessions, and expectations of member coaches (and others) in general.  It discusses such things as research guidelines and record keeping.  The Code of Ethics also covers and crosses many additional areas of coaching and coaches.  It covers from the beginning of coaching through the confidentiality of the coach-client relationship, to the steps in regards to how the coach will manage or act during the coaching sessions.  All of this is to ensure client satisfaction and client moving towards their objectives, wants, and goals.
By reading the ICF Code of Ethics and discussing it during coach training, a coach is prepared to explain or tell a client more about the Code of Ethics as the foundation of their coaching, as well as the foundation of their coach-client relationship during coaching sessions.  The Code of Ethics also delves into confidentiality which of course is essential to discuss with the client or potential client prior to a coaching session or coaching agreement.  The discussion and inclusion of the confidentially of the coaching sessions will put the client at ease and included with this is the clarification that even if a company or someone else is paying for the coaching, the confidentiality is owed to the individual being coached.  Creating this awareness and a comfort level in the confidentiality builds trust and supports more effective coaching sessions.  Confidentiality means the client can feel free to share openly, which will enhance their potential to move forward or towards whatever they're wanting during the coaching sessions.
The Center for Coaching Certification (CCC) believes, follows, and teaches utilizing the ICF Code of Ethics throughout all areas of their business.  A coach graduating from any CCC coaching program will have reviewed, discussed, and utilized this Code of Ethics and will be well prepared to enter the coaching arena with a working knowledge of the ICF Code of Ethics.