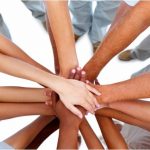 What it is: career group coaching is a valuable opportunity for individuals to share experiences, ideas, learning, and information.  A group conversation is fabulous for both awareness and brainstorming.
The process, quite simply, is for the coach to schedule the group and support each individual plus the group as a whole.  Sometimes the coach chooses the topic of the conversation based on their subject matter expertise.  Sometimes groups involve a mini-training to get the session started and then move to coaching for the exploration and brainstorming.  In other groups the coach invites the group to decide the topic – either in advance via a survey or when they get together.  In either case, the coach ensures a focused conversation that is open to everyone there.
As a client additional benefits of group coaching include the affordability, accessibility, and the power of the groups' collective knowledge.
Opportunities as a coach include serving more people effectively, diversifying offerings, and the privilege of learning from the group.
Effectively coaching a group does call for coach training, facilitation skills, and practice.  Significant coaching skills for groups include listening, clear direct language, and powerful questioning to support a collaborative atmosphere.