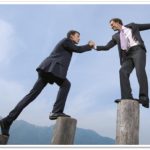 Coach training teaches us about partnering with people in a way that empowers them to create their own success.  This had proven true in my experience.
As an example, at one time I hired a manager for an apartment community who was living in a shelter.  She had the skill set and simply wanted a chance.  By giving her that chance I earned a loyal team member who did an amazing job for the company.
In a restaurant I owned for a time I learned how adapting to individuals appropriately created positivity on the whole team.  We had a cook who required accommodation for height to reach the stove and in the walk-in freezer.  It was so easy to do and it gained so much in terms of employee engagement.
In one company I provided financial counseling services and training classes.  When the process was focused on the individual choosing their own budget and actions it worked for them and they successfully paid their debts and started saving money.
In another position I helped a client create and grow a nonprofit organization.  The focus was on what she and her colleagues wanted the organization to be and to offer in the community.  Their success continues to this day because it truly was their success.
As a result of this and more learning throughout my career, when I found out about coaching it made sense and I knew I was interested in coaching certification.