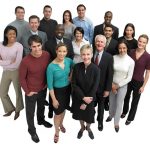 Coaching is a privilege.  Yes, it does involve developing skills through coach training and working hard.  It is a privilege because I partner with my clients on their journey toward what they want to achieve.
Coach training was an eye opener in terms of how much I learned.  Because learning about coaching was so powerful, I wanted to teach it too and became a certified coach trainer.  Then teaching coaching led to learning even more about the work.  Ultimately I learned that for the coaching profession it is incredibly important that coaches have standards and ethics.  The gold standard for coach training is the International Coach Federation, ICF, because they have the standards for membership, the  Core Competencies, the Code of Ethics, a process for approving coach training, accountability for member coaches, a process for credentialing, and wide recognition – all the elements that have legitimized a multitude of other professions.  In learning this, learning about the importance of specific content for coach training, and based on feedback, I was motivated to launch the Center for Coaching Certification.  The coaching certification truly focuses on quality and professionalism while providing support to participants.
Coaching and offering coaching certification is an ongoing journey of learning, engaging, and focusing on the future and the added benefit is that this creates a very positive outlook plus supports success.