Here is an example of a career coaching engagement using models, processes, and the coaching competencies.
Envision a career coaching opportunity.  Sometimes the challenge is recognizing which role will best serve the coachee – trainer, consultant, or coach.  Often the answer is all three roles.  Based on an introductory conversation, you offer a combination of services to the coachee.  With this approach, you decide to use the MEDICS model: Motivation, Explanation, Demonstration, Imitation, Consolidation, Support.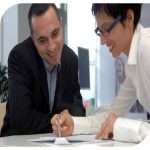 Prior to starting the engagement, you provide the coachee with an agreement and a copy of the Code of Ethics.  The coachee is invited to ask questions and you review key points in both documents.  Next you co-create your engagement by discussing which type of service you are scheduling and when.  During all service roles you utilize your coaching communication competencies.  The training, consulting, and coaching all serve to facilitate learning and results.
The relationship starts with a coaching session focused on exploring the coachee's motivation and having them explain their experience and options.  Next you have a training session to demonstrate resume writing.  From there, you consult with the coachee as they update their resume imitating what they learned.  Next you have another coaching session for the coachee to consolidate their resources and create their job search strategy.  The coaching continues to support the coachee with brainstorming, role playing interviews, accountability, and ongoing strategizing and motivation.
Questions for this Coaching Scenario:
What motivates you to engage in the job search process?
What is your ideal position?
Describe your ideal work day.
What is your career experience?
What is your educational background?
What are your career successes?
Who is in your professional network?
What are your thoughts on different styles of resumes?
What are you seeing in resumes that you like?
What do you want to incorporate in your resume?
What are your thoughts on interviewing?
What questions do you anticipate?
How will you dress?
What else do you want to prepare?
What is your follow-up to interviews?
What are your considerations for negotiating a position?
What are your resources for finding possible positions?
Have you looked at online resources such as https://jooble.org?
How will you prioritize possibilities?
How will you organize your search?
How will you track applications?
What is your support system?
How do you want me to support you?