by Karen Mildenhall www.kmleadership.com
Early in my career I believed, "If I'm a good coach, I'll be a great leader."  Fortunately, I quickly discovered that to be a phenomenal leader, I needed to know how and when to coach and recognize when a leader is not a coach.
Adept leaders demonstrate versatility and insight to converge the principles and skills of coaching into their daily lives and the capability to diverge from some of the behaviors coaches embrace.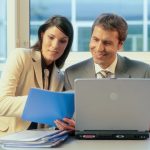 In Coaching Perspectives VII, my chapter titled Leadership & Coaching explores the principles and skills that coaches and leaders share and where high-performance converges.  This chapter also points out where leaders and coaches diverge.  The examples included in the chapter are real-life experiences from my career.
How Does It Matter?  I wrote this chapter so that you can quickly learn and apply the six principles and nine skills coaches and leaders share.  When you interweave these skills and principles, you create a pattern for success.  We all want to succeed!
What is the short version?  Breaking it down into bite-sized chunks, we explore how to look, listen, and ask.  These are deliberate behaviors that you as a leader and/or coach utilize.  Given enough practice, you will listen with focus, recognize different styles, and quickly adjust to connect, ask short and insightful open questions, clarify what you hear, and use positive language.
Divergence?  Yes, effective leaders diverge from the principles and behaviors they share with coaches in several ways.  Can you think of at least four differences in a leaders vs. a coach's behavior?  This chapter points out four areas where coaches and leaders must diverge in how they behave.  Most simply stated, this chapter points out how high-performing leaders coach and at the same time, coaches do not lead.
Whichever role, coach or leader, fasten your seat-belts because you are on a dynamic ride!
How to Learn More?  Check out Coaching Perspectives VII.